Being British in Autumn is good for two reasons. Number one, you have the opportunity to talk about the weather – either to complain about how it's getting colder or to be thankful that the sweltering heat (what a joke, correction: mild sun) is now being exchanged for sweater weather (I'm the latter). Number two is that, after the almost year-long wait, the Great British Bake Off is back on television.
I have to admit that I haven't been the most avid watcher of Bake Off for the last few years as its transition from the BBC to Channel 4 was a bit much, so I stayed loyal to British telecom and boycotted the show for a bit. However, this year I've managed to get into Bake Off more than I've ever done before and I regret absolutely none of it (it seems that absence really does make the heart grow fonder).
One of the ways that my avid watching of Bake Off has taken off this year is the inspiration that it's given me to bake. Now, I don't mean the kind of inspiration where you're watching the show and wish you were there because the food looks amazing, I'm talking about physically getting up off the sofa and making a cake – which, in all honesty, I mildly surprised myself by doing.
When it comes to baking, for the most part, I'm a one-trick pony. I make brownies and whilst they are the best you will ever taste in your life (I'm past modesty with them), it is one recipe and one recipe alone, which doesn't give me the most diverse skill set. I would be lying if I said I baked nothing else, however, I did bake with friends who are more practised than me so I'm not entirely sure of how much of the success was down to their talent rather than my help. In addition, the last time I tried to bake something other than brownies without anyone else's help I ended up with cupcakes whose icing was fairly depressing because I got the ratio of icing sugar to water wrong (meaning it resembled haphazard gloop). It would also make sense for me to mention that before I tried this I had never baked a cake by myself in my life.
Due to these factors, I made the wise and intelligent decision to make something from this season (season 10) of the Great British Bake Off.
My first task was to decide what I wanted to bake which happily was a very straight-forward task as the show publishes a number of the recipes online. I knew I wanted something sweet, allowing me to whittle it down to the categories of patisserie, pudding/dessert and cake; unsurprisingly, as the title of this post suggests, I decided on cake. More specifically, Henry's A White Russian from 1920s week.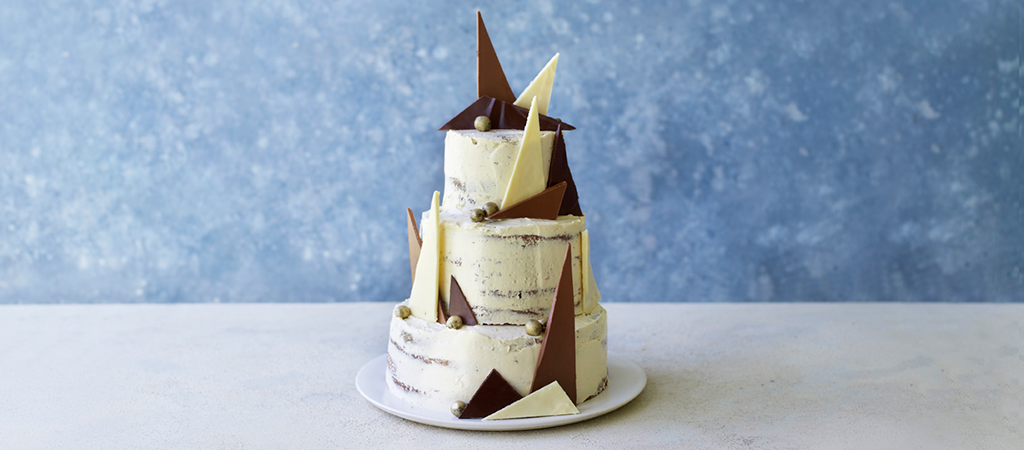 Although I could pretend that I chose this particular cake out of ambition or some other grandiose reason, I doubt I would be fooling anyone. Instead, it was simply because I thought it would taste the best and wasn't too hard for me to dumb the recipe down to a standard I could manage (whilst still providing me with a challenge).
To describe what the cake is, in case you haven't seen the episode, it was one of the bakes for the showstopper challenge where the bakers had to come up with a cake inspired by a cocktail. Funnily enough, the cocktail Henry chose was a White Russian, which consists of cream, coffee and Kahlúa, a coffee-flavoured liqueur. The actual cake has a coffee sponge with coffee syrup drizzled into the bottom sponge and praline and Italian meringue buttercream running through the middle. Decorated with more Italian buttercream and milk/dark/white chocolate triangles and pearls around the sides.
To simplify the recipe I made three changes: The first was to only make one tier rather than the full three (as that would definitely be out of my capabilities). The second was to make regular buttercream instead of the original Italian meringue buttercream; for this, I used the BBC Good Food recipe. The last change was to only make milk chocolate triangles for decoration, as whilst I did want the cake to look nice, I didn't think I needed to be so extra as to go full-out with all three types of chocolate and pearls, as at the end of the day it wasn't going to be judged by Paul Hollywood. I also took out the coffee liqueur to make it non-alcoholic and replaced it with instant coffee.
The process, to my delight, started off pretty well. I halved all the ingredients in the recipe to account for the decrease in tiers (if you're interested, I used a 30cm cake tin which was bigger than the base of Henry's original recipe and luckily it turned out to be a good fit) and made slow and steady progress.
The first mishap was when I was making the praline for the middle as turns out we didn't have any molasses. We did, however, have brown sugar which I was able to use as a substitute. The problem was that the brown sugar ended up burning a little, meaning it gave the praline a slightly burnt taste, though when it was in the cake you couldn't detect it so much so it could have been worse.
The second incident came when I was melting the chocolate to make the triangles. My lazy self decided that it would be a much easier option to use the microwave rather than a pot of boiling water on the hob, which, in theory, is a decent method to use. However, I forgot to account for the fact that if I put it on for too much time, and didn't bother checking on it, it could overheat and turn into a coarse and extremely burnt mess – which is of course what it did.
Luckily for me, I was able to pretend this never happened by dumping the lot in the bin and starting over, but this time melting the chocolate on the hob instead (which worked a lot better, a dream in fact).
The last problem I came across was not having enough icing sugar for the buttercream, which just meant that I didn't have enough to ice the cake properly with. As I halved the recipe at the beginning I wasn't stuck with as much of a loss as I otherwise would have had, but it did mean that I wasn't able to put as much icing through the middle of the cake, nor fully ice the sides as I initially intended.
As you can see above, icing isn't exactly my strongest talent, although it was my first attempt at doing it properly so I'm going to cut myself some slack. The milk chocolate triangles did help to neaten it up (i.e. hide my icing) as well and overall I am happy with its final appearance.
I'm going to end with what really matters: how it tasted.
I'm chuffed to say that it was indeed a scrumptious cake and without a doubt the best I've ever made. The next time I bake it (which I definitely will) I'm going to make sure I add more of the coffee syrup and praline as I held back a bit with adding it as I was afraid it was too much (plot twist: the recipe was right) and will endeavour to check I have sufficient amounts of all the ingredients beforehand (as clearly doing so by eye isn't the most accurate of methods).
If you're wanting to bake something from the Great British Bake Off but are afraid you lack the skill then I'd one hundred per cent encourage you to give it a go. I wasn't too sure of how it would turn out but I ended up being so much happier with the result than I initially imagined so don't let that kind of hesitation stop you from trying!
---
Do you watch the Great British Bake Off? If so, have you ever tried making any of the baked?
If you've been inspired to bake anything yourself then I'd love to know so let me know in the comments below!