I was tagged by Alexandra from The Hufflepuff Nerdette for this tag and you can find the link to her post here.
---
The rules for this tag are as follows:
Link back to the original tag
Complete each question with a picture or a gif 
Tag 5 more people
---
Clown Shoes:
"Clown shoes are usually over-sized and large, pick a book that was too long for you"
I feel bad for saying this but I'm going to have to choose Spinning Silver by Naomi Novik. I'm still trying to get through this book and whilst I am enjoying it, the pace is a bit too slow for my liking however I don't want to give it up because above all else, the storyline is good. I've got nothing against long books don't get me wrong, it's just that with Spinning Silver I can really feel it.
Gloves:
"Gloves help to exaggerate effect, pick a book cover that is stunning."
I wasn't one hundred per cent sure if I should pick An Enchantment of Ravens or not because I haven't yet read it, but I gave it because it's positively gorgeous – I mean, you can see that cover, right? It looks like it's actually glowing with that black against the light gold, just wow.
Large Red Mouth:
"Clowns paint large red mouths to be larger than their lips, pick a book that is bloody."
With Prince of Thorns there seems to be more sword fight, heads decapitated and overall blood shed with each page turned and whilst that's not typically my kind of book, I can't say I dislike it. In fact, I would say that I enjoyed it along with Jorg(the main character)'s not-hero, not-villain, not-anti-hero nature as it gave me a chance to question his actions as opposed to novels where you're spoon-fed opinions – so all-in-all quite a refresher.
Bow Tie:
"Bow Ties add another dimension to a clowns shirt, name a favourite fantasy book."
Now, this isn't the easiest of categories, mainly because fantasy is often all of what I seem to read but I'm going to try anyway.
Will I change my mind once I read the next books in the series? Probably, but for now I've chosen The Final Empire by Brandon Sanderson. The world building is amazing, the characters beautiful and the plot, just jaw-dropping. Honestly, the ending was simply ajsjfubewbwtbwo (i.e. words cannot describe it) and that was only the first in the series so I can't wait to see what the next ones bring.
Suspenders:
"Suspenders hold up the clowns pants, name a character/s that kept you reading a book."
So saying the whole cast seemed like cheating, so I whittled it down to Kell, Rhys and Holland. The obvious options? Maybe, but I love them nonetheless. The description of this category seems a bit misleading considering my choice, as I couldn't stop reading the book due to all its other beauty, however these characters really made it for me and I don't think the Shades of Magic trilogy would be the same without them (mostly because they make up a good 80% of the plot but never-mind).
Clown Eyes:
"Clowns paint on their eyes, name a book that has a surprise twist in it."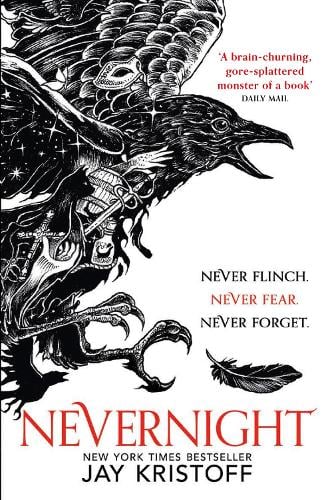 Um, seemingly all of them considering I'm actually really bad at predicting plot. Regardless I've chosen Nevernight because surprisingly (I say that with the upmost sarcasm), I didn't see that plot-twist coming. I probably can't say more than that otherwise I fall at risk of giving spoilers but yeah, read it, it's good.
Clown Nose:
"The main feature of a clown is their noise, name your favourite book character."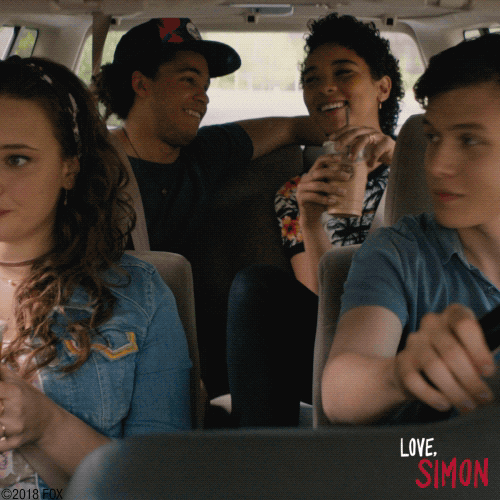 I can't choose only one, I just can't (*inserts spiel about how it's like choosing between your kids*), so I'm going to pick at random from my long list – and I've landed on Simon Spier from Simon vs the Homo Sapien Agenda. Simon's dorkiness, teen angst, oreo obsession and pure adorability is something I truly love. I've re-read the book countless (okay, probably around five) times and there's always more to be appreciated that I missed the previous time, it just never gets old and his narration is just the best.
Clown Wig:
"A Clown's wig is full of all the colors from the rainbow, name a book with a LGBTQIA+ Character."
I've used up Simon vs so I feel as though I shouldn't use it again, however I am going to choose another book by Becky Albtertalli and that's What If It's US which she co-wrote with Adam Silvera. Whilst you'd think that co-written books would end up a bit jumbled up and haphazard, I don't think I would genuinely have been able to tell if both their names hadn't been plastered on the front. The book tells the love-story between Arthur and Ben and it's a really sweet, endearing one that has a similar feel to the rest of Becky's books and I love it just like all the rest.
---
That marks the end of this tag and for the people I tag I'm going to leave it open because the categories are just fantastic so everyone should have a go at them!