Top Ten Tuesday was created by The Broke and the Bookish in June of 2010 and was moved to That Artsy Reader Girl in January of 2018. It was born of a love of lists, a love of books, and a desire to bring bookish friends together.
The theme for this week is:
Books I've Read That I'd Like In My Personal Library
Unfortunately I haven't been able to do Top Ten Tuesday for a few weeks as I've been away and didn't have enough time prior to write and schedule all of them but thankfully I'm back again and for such a good theme as well!
---
1. Carry On, Rainbow Rowell
Mentioning this beautiful book seems pretty appropriate considering how close it is to Wayward Son's release date (who else is hyped!?!!!?????) and for reasons unknown to myself (although let's be real it's budget) I only own it on e-book rather than in all its hard/paperback physical glory. I've already pre-ordered the signed floral edition of Wayward Son and I'm hoping a new hardback edition of Carry On will be released at some point so I can have the as a pair to admire on my shelves.
Before I properly got into the book I actually bought my friend the signed white outline edition of the novel and I'm so jealous of her now for owning it ironically – but oh well.
2. The Poppy War, R F Kuang
I read The Poppy War through a library app on my phone but as it was so good I'd love to own it so I have the opportunity to pick it up again anytime to give it a good re-read or flick through. Whilst white book covers can often leave me conflicted (as sometimes I find they can look a bit bland on the shelf) I think the smoky letters and general simplicity of this one was excellently done so I'm more than happy to abandon my usual reasoning.
3. Kings of the Wyld, Nicholas Eames
Whilst you can't see it in the photo, Kings of the Wyld has a darn cool spine which I know would rock my shelves. In addition I own the sequel, Bloody Rose, and I'm sure it'd be helpful to be able to easily reference who the characters are from the first book as knowing me I'm likely to have forgotten considering it's me and I'll probably procrastinate reading it.
4. Release, Patrick Ness
I won't lie, I'm half on the fence on this one as on the one hand I think the cover's gorgeous – just the same as the rest of Ness' books – however I'm unlikely to re-read it as it wasn't my favourite book of his, but I'm going to leave it here purely for the purpose of you being able to look at it – you're welcome.
5. Spellslinger, Sebastien De Castell
Another cool looking cover if I do say but the problem with this one is the sheer size of the series – i.e. it's longer than a trilogy – hence why I don't own them, however that doesn't stop me from wishing I did. Each book is in a different colour so they're always satisfying to see lined up next to one another, I'll just have to leave the gazing to the library.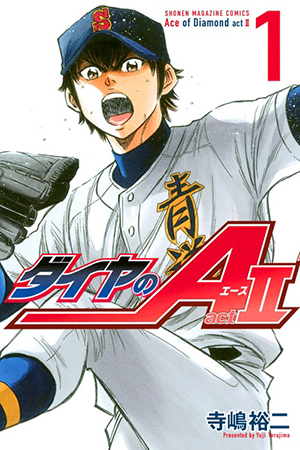 6. Diamond No Ace (/ Ace of the Diamond), Yuji Terajima
The last five books on the list are all manga/graphic novels and whilst I don't really read them as much now (or watch anime/cartoons) I still find the art to be so beautiful to look at and appreciate the difference in storytelling.
Diamond No Ace is probably still my favourite anime/manga purely because of how easy it was to become so invested in the characters and their development. It's a relatively lesser known one which I'm rather surprised by, but I suppose that makes me love and appreciate it so much more – I have to make up for the lack of other fans' love.
7. Boku No Hero Academia (My Hero Academia), Kōhei Horikoshi
This is the most recent one I've read / watched (around 2 years ago now). Again – the art.
8. Naruto, Masashi Kishimoto
Ahh yes Naruto, a.k.a nostalgia central.
9. Dragon Ball, Akira Toriyama
Now, this is really where it all began. Dragon Ball was the first manga I ever read and got my hands on, kindly lent to me by my 11+ tutor as I used to look at them lined up on the shelf whilst waiting for my mum to pick me up – which seems quite amusing but sweet to think about now.
10. Nimona, Noelle Stevenson
Nimona was probably the first graphic novel I read which wasn't specifically targeted towards children. It's a funny one for sure so I'd love to have it on hand for whenever I need a good laugh.
---
Have you read any of the books on this week's list?
Do you have a lot of books which you'd love to own but simply can't justify spending the cash on too?
Let me know if you participated in this week's Top Ten Tuesday!