Top Ten Tuesday was created by The Broke and the Bookish in June of 2010 and was moved to That Artsy Reader Girl in January of 2018. It was born of a love of lists, a love of books, and a desire to bring bookish friends together.
This is my first time doing a weekly book tag and I'm pretty excited, especially considering this week's theme:
Books From My Favourite Genre
My favourite genre has to be fantasy and I think it has been for the last few years. For me, there's no other genre that has the power to take me away from myself and completely immerse me in a world the way fantasy does. I've even had my mum call me out on it several times when I was younger, questioning why I wanted to "get away from the real world" and calling my reading "escapism", and although I'm not drawn to this genre for those reasons, I certainly don't mind a lot of the time.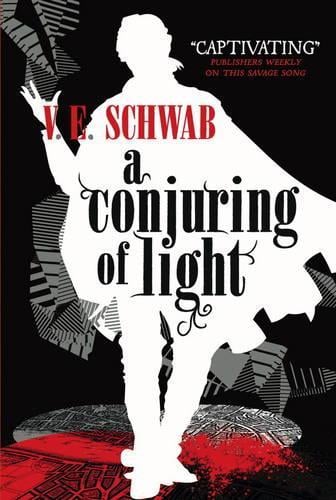 1. A Conjuring of Light, V.E Schwab
I don't think it's a surprise for anyone to see a volume of  the Shades of Magic trilogy on this list considering the genre. Although I have to admit that I didn't fall for the series the first time starting it (and ended up quitting halfway through the second), when I revisited it late last year I absolutely fell in love. It has some of my favourite characters and character growth out of all the books I've read – if you're wondering, yes it is Rhys (but Holland is a close second).
I chose the final book in the trilogy mainly because, although I enjoyed the easier mood of the second, the climax and the way V.E Schwab bought the series to a close couldn't be rivalled. The ending of the book felt so right even though I cried (especially because I cried) and I felt as though we got to see a lot more of previously more sideline characters, enhancing the plot and the world-building.
2. Carry On, Rainbow Rowell
I fully cannot express how excited I am for Wayward Son to come out in September later this year, like WOW, we're really getting a sequel. Carry On is easily my favourite Rainbow Rowell novel, it's full of fun teen angst but also genuine, thought-out plot, especially with Simon's heritage (what word do I use without giving potential spoilers y'know).
Carry On also stars my favourite gay vampire, Baz, so I mean, what's not to love.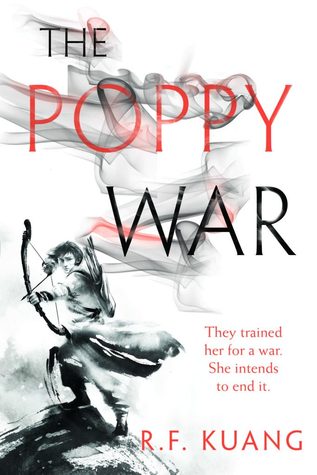 3. The Poppy War, R.F Kuang (review)
The Poppy War takes so many twists and turns in its plot, it's a journey for sure and an emotional one at that. It begins as your classic 'orphan prodigy trying to make something for herself' trope but evolves into so much more than that. In addition, it's nice having a novel without romance for once – don't get me wrong, I love some romantic sub-plot from time to time, but by putting that aside The Poppy War creates some really powerful, dynamic friendships and relationships that I don't feel as though we often see.
4. Kings of the Wyld, Nicholas Eames
World-building – that's all I have to say for this one (but I'm going to say more nonetheless). I think it's become fairly easy to end up reading a lot of samey fantasy novels, a lot of them revolving around a particular romantic duo or it's set in yet another high school or another headstrong female protagonist (not that I'm not a fan of any of these, there's just quite a lot of them), so reading Kings of the Wyld provided a nice breather. While I admittedly picked up the series based on the cover art of the second book in the series, Bloody Rose, it really was a great read – there's lots of monsters as well as the solid, lasting friendships of the main protagonists, all middle-aged men, with a good dose of humour to top it all off. If you feel as though YA fantasy and romance is getting a tad old and you need a break, Kings of the Wyld is where you need to be looking.
5. Crooked Kingdom, Leigh Bardugo
Yet another firm favourite of many, I doubt I need to advocate for Crooked Kingdom considering it's massive, ever-growing fan-base. I love how the characters in this novel are so thrown together and a really unlikely fit, yet somehow make for a strong group dynamic whilst also retaining their individual personalities. Kaz's character has so much built up angst but has a good backstory to go along with it, and of course, Jesper and Wylan, what a couple.
6. The Sin Eater's Daughter, Melinda Salisbury
I was a bit unconventional when reading this series a few years back, long story short I wanted to read one of Melinda's novels before YALC and the consensus on Goodreads was that The Sin Eater's Daughter was a better than the first book in the series and could be read without the knowledge of the first, meaning that I skipped straight to it in order to get a book read on time. Now that I've read the trilogy I feel as though I can safely recommend that if you're wanting to start this series, read it in my mistaken order as it makes for a much bigger (and more exciting) plot twist/revelation at the end of the book. In addition, whilst on the topic of the ending, it's brutal (or at least it was for 14 year old me) and yeah, was I upset by it? Yes. But was it good though? A bigger yes. (Although if we're putting it on a Shades of Magic ending scale, it doesn't come close.)
7. Prince of Thorns, Mark Lawrence
Prince of Thorns follows Jorg, a character that whilst I feel as though I should hate, seemingly do not. Mark Lawrence writes characters that just don't fit into boxes, Jorg is most definitely not a hero, but is also not a anti-hero nor villain, he's a weird mixture of all of them. Mark himself actually wrote blog post about it, which I do recommend giving a read whether you've read the book or not (and it contains no spoilers, don't worry).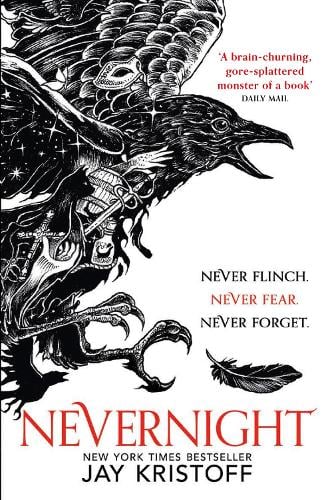 8. Nevernight, Jay Kristoff
Nevernight is actually my most recent finished read (at the time of writing this) and it's one I thoroughly enjoyed. I do enjoy the element of the main character, Mia, not understanding the origins and capabilities of her powers and why she can call on the dark, and it's an aspect of the series which I'm looking forward to discovering further in the next two volumes. I also liked how the flashbacks were dispersed throughout the chapters so I, as the reader, could gradually learn more about her past as appropriate.
9. Lost Stars, Claudia Gray
Now, I know what some of you may be thinking, Debbie, isn't this science fiction rather than fantasy? Your answer to that question would be yes, but for the sake of me making this list up to 10 we're going to accept it. Back in 2016 when Rogue One was released (it was that long ago, I can't believe it either) I went into a slight Star Wars phase, meaning I read a number of the Star Wars books. Lost Stars, unlike some of the other SW novels, doesn't focus on any of the characters in the main films, but rather features new ones with the story taking place alongside the events in the film. What I liked about Lost Stars was the conflict between the two main characters, Thane and Ciena, who both entered the Imperial Academy together, but end up on opposing sides of the same war. It's ultimately a love story, but a good one at that, and it's Star Wars, so who am I kidding? It's great.
10. Spellslinger, Sebastien De Castell
I thought I'd finish up with an actual fantasy novel, because it didn't feel right to end with Sci-Fi.

Kellen is your classic underdog, beginning almost pathetically so. He doesn't have much talent, in the shadow of his acclaimed father and too-talented-for-her-own-good younger sister (tbh I can relate), so his life kind of sucks, until Ferius turns up that is. Spellslinger explores themes larger than itself, and I'm a sucker for stories having morals; whilst I could now go onto spoiling what those morals are, and thereby potentially ruining the plot, I'm going to quit whilst I'm ahead and simply tell you to read i (but also warn you that it's a fairly long series that has not yet been completed).
---
Did any of these books make your list of favourites? What's your favourite genre to read?
Tell me in the comments if you participated in this week's Top Ten Tuesday and I'll make sure to check out your favourites!